The Ideological Origins of Nazi Imperialism
Smith, Woodruff D.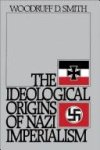 ISBN 9780195047417
Uitgever Oxford Univ Pr on Demand
Taal GB
Categorie -
Meer info Goed
Extra informatie This study traces the evolution of imperialist ideology in Germany from Bismarck in the mid-nineteenth century through to Hitler and the Third Reich. Although much has been written about the virulently racist and anti-communist ideologies of the Nazi party, this is the first book to treat Nazi imperialism as a separate ideology and set it within a sturdy theoretical framework. Smith contends that Nazi imperialism represented the last, ambitious attempt to integrate two century-old ideologies - the elite, pro-industrial Weltpolitik and the popular-based, pro-agrarian Lebensraum - into a single system.
1 stuk op voorraad.
Heeft u vragen over het boek? Hier kunt u een vraag stellen.